Whether you're aiming for an oceanside holiday on Tel Aviv's stunning Mediterranean coastline or a cosmopolitan break in Israel's second city, enjoy five-star luxury in a stylish and tranquil environment. The Savoy, the most prestigious boutique hotel in Tel Aviv, offers everything for the discerning traveler. Renowned amongst Tel Aviv hotels, the Savoy offers chic and elegant interiors, world-class dining, spectacular views and a luxurious experience with a rooftop terrace and luxury spa. However, what makes the Savoy really stand out amongst Tel Aviv's boutique hotels is its unique blend of serenity and warm, intimate ambience. The Savoy knows how to make your stay in Tel Aviv truly memorable.
Sometimes, it's hard to choose between beach fun and relaxation or the color and vibe of a city break – the great thing about Tel Aviv is you don't have to. This ancient port has developed into Israel's second city. Compact and accessible, all the main attractions are within easy reach of the beach so that you can enjoy everything: culture, shopping, museums, fine dining and mile upon mile of stunning Mediterranean shoreline.
A boutique hotel is the way to go in Tel Aviv, whether you are just looking for somewhere to lay your head or want full-on five-star luxury. The perfect complement to your Tel Aviv vacation, a boutique hotel in Tel Aviv offers friendly personal service, designer interiors and a warm, inclusive atmosphere that lets you get under the skin of this fascinating city.
Find out how to choose a prestigious Tel Aviv boutique hotel for your holiday.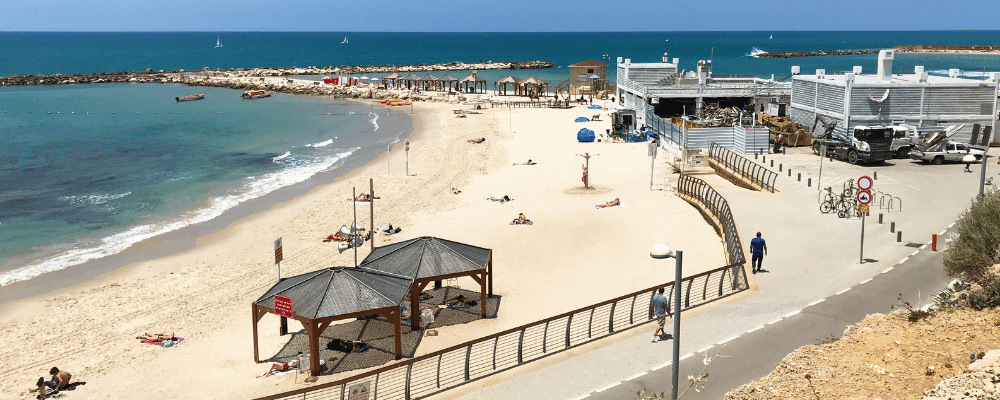 The Advantages and Features of a Boutique Hotel in Tel Aviv
One of the great joys of Tel Aviv is that it is a compact city, easy to get around and get to know. A holiday in Tel Aviv is always personal, never impersonal, and the right boutique hotel choice is another way to sample Tel Aviv's warm welcome.
Boutique hotels tend to be small and intimate, with a level of personal service absent from the larger commercial establishments. Whatever type of holiday you are looking for, a Tel Aviv boutique hotel blends with your itinerary so your stay is as unique as your vacation. Here are a few of the key features.
 

Enjoy individual and elegant designer interiors which mirror the distinctive flavor of this cosmopolitan city

 

Feast your eyes on the stunning views of the Mediterranean coastline from your Tel Aviv boutique hotel, with spectacular ocean vistas from the bedroom and rooftop terrace for the ultimate in relaxation

 

Savor five-star international cuisine or sample Kosher menus and local Israeli food

 

Tel Aviv's boutique hotels commonly have in-house spas, so you can enjoy pamper sessions and luxurious treatments, a tonic for the mind and body

 

Many Tel Aviv boutique hotels have an oceanside location but are still within easy reach of the city's attractions, including the world-famous Tel Aviv night life and party scene

 

Enjoy genuine personal service from friendly and attentive hotel staff that makes the welcome warmer and your stay even more memorable

 

Take a deep dive into the culture and history of Israel's second city with a plethora of international museums and galleries – you might even find some of the artwork gracing the walls of your Tel Aviv hotel

 

Let the quality of your boutique hotel's interiors inspire your shopping trips in the city – Tel Aviv is famous for its high-end retail ranging from international stores to unique artisan boutiques and everything in between
How to Choose the Best Prestigious Boutique Hotel in Tel Aviv
 

Do your research, most boutique hotels have a gallery of interior and exterior images, and some have video tours. Many boutique hotels have unique designer-led rooms which encapsulate the color and culture of this cosmopolitan city

 

Decide on the priority amenities that you want. There's no point in choosing a boutique hotel with an international restaurant if you plan to eat out in the city or oceanside every night. Focus on the essential elements for your vacation

 

Think about location, it's hard to resist the oceanside in Tel Aviv, and all the beachside Tel Aviv hotels are within easy walking distance of the city's main attractions – it really is the best of both worlds

 

Read the reviews, especially if the personal touch is important to you. Other guests' experiences can inform your choice
Your Tel Aviv hotel should mirror what you want from Tel Aviv as a holiday or even a business destination. Put the Savoy at the top of your list. This prestigious boutique hotel in Tel Aviv offers individuality and character, luxurious and elegant interiors with thoughtfully chosen amenities that complement any vacation or business trip. Call today to make your reservation.
Frequently Asked Questions
Are the best boutique hotels oceanside or in the center of Tel Aviv?
There are some lovely old building conversions in the center of Tel Aviv which marry ancient architecture with elegant interiors, plus some stylish contemporary new builds. However, we are somewhat biased as we believe the Savoy offers the best boutique hotel experience in Tel Aviv with its fantastic oceanside location.
Do the city center hotels in Tel Aviv have pools?
Some of the larger city hotels have plenty of space for a swimming pool and spa. A clever trick for the smaller hotels in Tel Aviv is to feature a rooftop oasis so you can enjoy a swim and some relaxing poolside time whilst savoring the stunning views over the city and ocean.
Does public transport operate in Tel Aviv on Shabat Day?
Shabat Day is the Sabbath in Tel Aviv, so public transport does not run. However, there is a public bike service, and some hotels provide their own bikes for guests to use. Taxis are still available in the city on Shabat Day.
Are boutique hotels smaller than regular hotels in Tel Aviv?
Boutique hotels pride themselves on offering a more intimate and less frenetic ambience, and so, on the whole, they do have fewer guest rooms. Boutique hotels in Tel Aviv are all about the experience, whether the building style, the elegant and individual interiors or the warm, personal service.