Ever stayed in a place that feels like Europe but with Tel Aviv's charm? That's The Savoy Hotel for you. With its stylish interiors, breathtaking views of the Mediterranean, and a stone's throw away from the city's hottest spots, it's a traveler's dream. Read this Tel Aviv travel guide to discover the best that Tel Aviv and The Savoy Hotel have to offer in this comprehensive travel guide.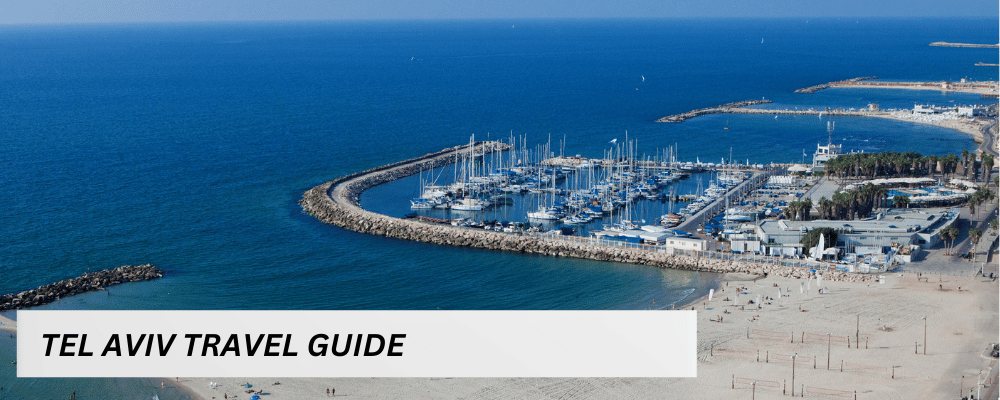 Looking for the perfect escape? Tel Aviv is your answer! Imagine a bustling city right by the Mediterranean, where diverse cultures blend, beaches are breathtaking, and the nightlife keeps you dancing till dawn. Experience the city while staying at The Savoy Hotel, located on Ge'ula Street, just meters from Tel Aviv's promenade and beaches. 
Tel Aviv Travel Guide: Key Attractions
Beaches In Tel Aviv:
Gordon Beach:

This is one of the busiest and most popular beaches in Tel Aviv. It's a great place to play matkot (Israeli beach paddle ball), join a game of beach volleyball, or just relax and soak up the sun.

Frishman Beach:

Located close to the city center, Frishman Beach is known for its clean sand and clear water. It's a perfect spot for families and individuals who wish to spend a quiet day at the beach.

Banana Beach:

Located at the southern end of the Tel Aviv beach strip, Banana Beach is a hub for artists and musicians, especially on Fridays when the drum circle takes place.

Hilton Beach:

This is Tel Aviv's official gay beach, but it's also popular with surfers and dog owners. It's a place where the city's diversity really shines.
Historical Sites In Tel Aviv:
The White City:

Recognized as a UNESCO World Heritage site, The White City is a collection of over 4,000 Bauhaus-style buildings built in the 1930s by German Jewish architects who immigrated to Israel after fleeing the Nazis.

Jaffa Old Town:

This ancient port city, now part of Tel Aviv, is rich in biblical history. Stroll down its winding alleys, and you'll stumble upon age-old buildings, tucked-away art galleries, and lively flea markets. Just go with the flow and see what you find!

Eretz Israel Museum:

An extensive archaeological and anthropological museum that depicts the culture and history of Israel.

Palmach Museum

: An interactive museum located in Ramat Aviv, which tells the story of Palmach, the elite fighting force of the Haganah, the underground army during the British Mandate of Palestine.
Modern Attractions In Tel Aviv:
Tel Aviv Museum of Art:

packed with everything from classic to modern art, you'll see pieces from big names like Picasso, Dali, and even Van Gogh. Besides, they always have new exhibitions coming in, making it a must-visit every time you're in town!

Carmel Market (Shuk Ha'Carmel):

The largest market in Tel Aviv, Carmel Market offers a colorful and vibrant display of food, clothing, and trinkets. It's the perfect place to experience the local flavors and culture.

Neve Tzedek:

This is the first Jewish neighborhood built outside of the old port of Jaffa. Today, it's a trendy area with boutiques, cafes, and art galleries.

Rothschild Boulevard:

It's this lively stretch in the city where you can grab a bite, sip some coffee, or just hang out at a bar. And oh, the Bauhaus buildings? They give the place a unique charm.

Port of Tel Aviv:

  or as locals call it, Namal Tel Aviv. From cool shops to buzzing nightclubs, it's got it all. Plus, throughout the year, they've got all these events – concerts, farmer's markets, and even festivals. Definitely worth a visit!
Accommodations at The Savoy Hotel
The hotel's rooms and suites are elegant and stylish, featuring comfortable furniture and stunning sea views. Guests can also enjoy the rooftop's swing chairs and bar stools, a perfect spot for taking in the Mediterranean sunset while sipping a drink. The rooms and suite are furnished with stylish and elegant furniture, the lobby serves a variety of complimentary hot and cold drinks, cakes, cookies, and seasonal fruit. All the major worthwhile activities are within walking or cycling distance.
The Savoy Hotel ensures a delightful stay for its guests. With a helpful concierge service, a beachside restaurant, a dedicated wellness center, and efficient room service, we prioritize your comfort and enjoyment throughout your visit.
Travel Tips and Getting Around
Wondering how to get around Tel Aviv? wonder no more:
Public Transportation:

Tel Aviv's public transportation system is efficient and reliable. The city has a comprehensive network of buses and a new light rail system. Public transportation is the best way to get around during weekends, when other forms of transport may not be available due to the Sabbath.

Renting a Bike:

Tel Aviv is a bike-friendly city, with dedicated bike lanes throughout the city. You can rent a bike through the city's bike-sharing program, Tel-O-Fun, available 24/7.

Walking:

Many of Tel Aviv's main attractions are located within walking distance of each other, especially in areas such as Rothschild Boulevard and Jaffa.

Taxi Services:

Taxis are readily available and can be hailed on the street. Ride-hailing apps like Gett are also popular in the city.

Using a Rav-Kav Card:

The Rav-Kav card is a rechargeable, electronic ticket that can be used on public transportation, including buses, trains, and the light rail. It's a convenient option for frequent travelers.

Safety:

Tel Aviv is generally a safe city, but like any major city, it's important to be aware of your surroundings, especially at night. The emergency number in Israel is 100 for the police and 101 for medical emergencies.
Conclusion
With this detailed Tel Aviv travel guide you can now enjoy the city to its fullest- whether you're a beach enthusiast, a history lover, or someone who enjoys a good party. And with The Savoy Hotel's chic European vibe in close proximity to major attractions, staying at the hotel will make your trip even more memorable. Whether you're looking for a romantic getaway or an adventure with friends, Tel Aviv and The Savoy Hotel are an excellent choice. Contact the hotel today to book your stay and experience the best that Tel Aviv has to offer.
Frequently Asked Questions
Can travelers easily get from Tel Aviv to other significant destinations in Israel?
Yes, Tel Aviv serves as a convenient hub for reaching other significant destinations in Israel. The city is well-connected by public transportation options like buses and trains, as well as highways for those who prefer to drive, making it easy to get to places like Jerusalem, Haifa, and the Dead Sea.
What local dishes or culinary experiences should travelers try while in Tel Aviv?
Travelers in Tel Aviv should definitely try local dishes like hummus, falafel, and shawarma, which are available at many street vendors and casual eateries. For a more refined culinary experience, sampling contemporary Israeli cuisine at one of the city's upscale restaurants is also a must.
What's the best mode of transportation for tourists in Tel Aviv?
The best mode of transportation for tourists in Tel Aviv is a combination of walking and using the city's well-connected public transportation system, including buses and the Tel-O-Fun bike rental service. For longer distances or to visit nearby attractions, taxis and rideshare services are widely available and convenient.
Are there guided tours available for first-time visitors?
Yes, Tel Aviv offers a variety of guided tours tailored for first-time visitors. These include walking tours, bike tours, and culinary tours that provide insights into the city's history, architecture, and vibrant culture. Many of these tours are available in multiple languages to cater to international tourists.