With its inviting beaches, energetic markets, and rich art culture, There are plenty of romantic things to do in Tel Aviv. If you're pondering where to stay, The Savoy Hotel might just have what you're looking for. With its warm atmosphere and intimate setting, the hotel serves as the perfect for couples. In this article, we'll delve into romantic things to do in Tel Aviv and the advantages of choosing The Savoy Hotel as your retreat.
Exciting Market Visits: More Than Just Shopping
Looking for a unique souvenir or want to experience local life? Tel Aviv's markets offer a shopping experience filled with romance:
Carmel Market:

This expansive marketplace offers a variety of fresh produce, spices, clothing, and street food. Meandering through the lively aisles and sharing local dishes make for a perfect daytime outing.

Jaffa Flea Market:

Antique aficionados will find this market fascinating. When you need to catch your breath, neighboring cafes and eateries offer the ideal spots for some downtime.

Nachlat Binyamin Arts and Crafts Fair

: This bi-weekly event showcases handcrafted goods, unique art, and live entertainment. 
Artistic Excursions: Museums and Galleries Galore
Tel Aviv, the cultural epicenter of Israel, boasts an array of artistic venues to explore:
Tel Aviv Museum of Art:

 Home to an impressive collection of modern and contemporary art, the Tel Aviv Museum of Art provides a unique date experience.

Eretz Israel Museum:

The Eretz Israel Museum is a treat for history enthusiasts, boasting extensive collections covering archaeology, folklore, and various other subjects. 

Gordon Gallery:

For a more intimate artistic venture, Gordon Gallery features a wide variety of contemporary Israeli art. The ever-changing exhibitions and opportunities to engage with local artists make it a unique venue for a memorable date night.
Romantic Things To Do In Tel Aviv At Night
Tel Aviv's nightlife scene offers romantic options for couples to enjoy:
Imperial Craft Cocktail Bar

: Considered one of the world's best bars, it provides a snug setting and an extensive cocktail list, making it the ideal spot for couples seeking a sophisticated yet laid-back evening.

The Prince:

Situated atop Nahalat Binyamin, this rooftop bar offers stunning views of Tel Aviv. With its inviting seating and ambient lighting, it creates a romantic atmosphere for sipping cocktails and dining.

La Otra:

If you're looking for something a little more vivacious, La Otra combines Latin and Middle Eastern music. 
Cherished Moments at The Savoy Hotel
One of the most romantic and elegant spots in Tel Aviv is the rooftop at The Savoy Hotel. Overlooking iconic Tel Aviv views, leisurely sipping a wine glass as the sun sets create a special and unforgettable atmosphere. The warm and intimate setting of the venue creates an ideal backdrop for cherished moments between couples. Whether you're looking for a romantic dinner or just enjoy the views while enjoying refreshments from the bar – The Savoy Hotel rooftop offers something for everyone.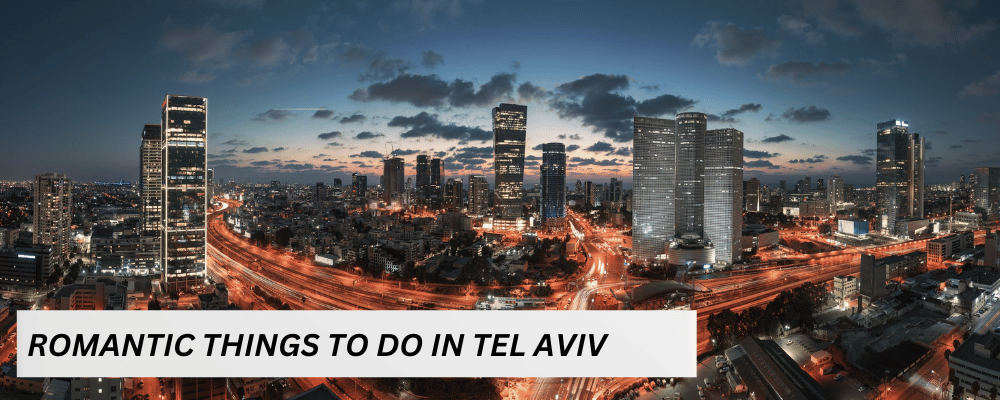 Selecting The Savoy Hotel as your Tel Aviv accommodation allows couples to truly enhance the romantic experience during their stay in this captivating city.
Conclusion
From bustling markets to serene art hubs, there is an endless list of romantic things to do in Tel Aviv. The Savoy Hotel's rooftop, with its sweeping city vistas, stands as a testament to the city's romantic allure. If memorable moments with your partner are what you seek, Tel Aviv and The Savoy Hotel are ready to welcome you.
Frequently Asked Questions
What romantic activities can couples partake in when visiting Tel Aviv?
Couples visiting Tel Aviv can enjoy romantic sunset walks along the Mediterranean beaches or take a private sailboat ride. For an artsy date, they can explore the city's vibrant art galleries and museums or dine at intimate restaurants offering a fusion of Middle Eastern and Mediterranean cuisine.
Is Tel Aviv a romantic destination?
Yes, Tel Aviv is considered a romantic destination. With its Mediterranean beaches, intimate dining spots, and charming neighborhoods, the city offers couples a blend of relaxation and urban excitement for memorable moments together.
What is a must-see or must-do romantic spot in Tel Aviv during sunset?
A must-see romantic spot in Tel Aviv during sunset is the city's Mediterranean coastline, especially the promenade or "Tayelet".
What fine dining restaurants are recommended for a romantic evening out?
In Tel Aviv, Taizu is renowned for its sophisticated ambiance and exquisite cuisine, making it an ideal choice for a romantic evening. Additionally, Shila - Sharon Cohen's Kitchen & Bar offers a vibrant atmosphere paired with delectable dishes, perfect for couples seeking a memorable dining experience.
What are the most scenic spots in Israel for couples?
The Dead Sea offers a unique, serene backdrop perfect for couples, while the Baha'i Gardens in Haifa provide breathtaking views and beautifully manicured terraces. The ancient city of Jerusalem, especially the Tower of David, offers romantic views during sunset, and the beaches of Tel Aviv are perfect for evening strolls and dining by the sea.