Winter is a stunning time to experience the beauty of Israel. The mild winter climate, varied landscapes, and vibrant culture make it a great time to explore the country, especially with fewer tourists around. While summer offers warm beaches and bustling markets, winter in Israel reveals a different kind of charm. Cultural events abound, with locals celebrating Hanukkah, Christmas, and other festivities, each adding a unique flavor to the winter season. 
As you traverse through the country, savor the authentic Israeli cuisine – warm soups, oven-baked bread, and hot drinks that are special to this time of year. Embrace the opportunity to experience Israel in its winter glory, an experience that is sure to be unforgettable. In this article, we'll explore everything you need to know about winter in Israel and why The Savoy Hotel is the perfect spot to enjoy it all.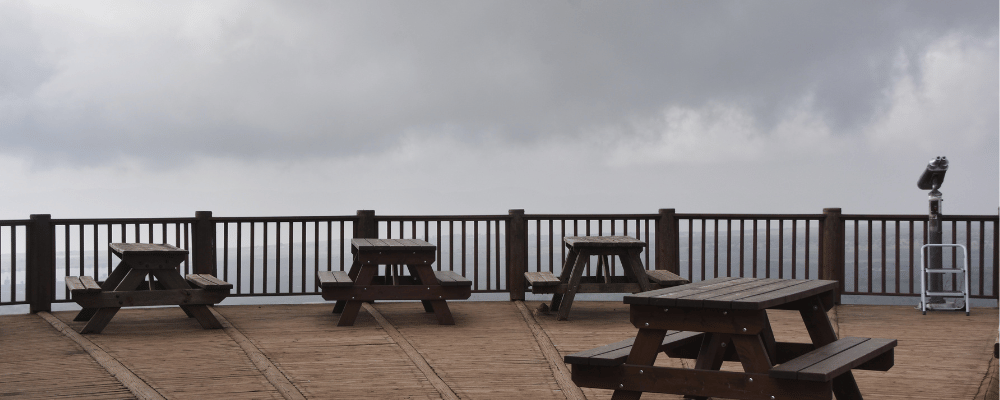 Winter Weather Across Israel
The weather during winter in Israel varies considerably across different regions. In the coastal cities like Tel Aviv and Haifa, the temperatures range from 10°C to 18°C (50°F to 64°F), with occasional rains offering a refreshing break from the usual arid climate. The southern desert region of Negev sees mild winters, but it's the highlands and mountainous regions where the true essence of an Israeli winter can be experienced. 
In Jerusalem and the Golan Heights, temperatures can drop to near freezing, and snowfall, while rare, is a spectacle that transforms the landscape into a winter wonderland. It's suggested to pack accordingly if you are planning to visit during this season, with warmer clothing necessary for the cooler nights and rainwear advisable due to the likelihood of showers.
Winter Activities in Tel Aviv
Winter in Tel Aviv offers a unique blend of indoor and outdoor activities. Whether you're into culture, food, nature, or just like to go where the locals do, there's something for everyone. Here are some activities to consider:
Explore the Carmel Market:

This bustling marketplace is a hub of activity no matter the season. In winter, you can enjoy hot, savory foods from the many vendors, or pick up fresh local produce.

Visit the Eretz Israel Museum:

Warm up indoors while soaking in some culture. The museum has exhibits on archaeology, folklore, Judaica, traditional crafts, and applied art.

Take a Walk on the Tayelet:

This beachside promenade offers beautiful views of the Mediterranean, even in winter. The cooler weather makes for a refreshing walk or cycle.

Enjoy Local Cafes:

Tel Aviv is known for its café culture. Enjoy a hot drink and a pastry in one of the city's many cozy spots.

Head to the Yitzhak Rabin Center:

Learn about one of Israel's most influential figures. The center uses Rabin's life story to discuss key moments in Israel's history.

Surfing:

Yes, you can surf in winter too! The larger winter waves attract surfers from around the country. Equipment can be rented on the beach.

Attend a Concert at the Israeli Opera:

The winter season offers a variety of performances from local and international artists.
Beaches in Winter
Israel's Mediterranean coastline is always a hit, no matter the season. But in winter, the beaches take on a calm, uncrowded vibe, making it the perfect time for some peaceful relaxation by the shore. Tel Aviv's beaches are the most popular, offering a serene setting for morning walks and jogging or enjoying a hot cup of coffee while admiring the view. Off-season travel also means that hotel rates are often lower, making winter the perfect time to indulge in high-end accommodations like The Savoy Hotel, the perfect beachfront hotel in Tel Aviv.
Travel Tips for Winter in Israel
Check the Weather Forecast:

Israeli weather can be unpredictable in the winter. It's a good idea to check the forecast frequently and plan your activities accordingly.

Pack Layers:

With the temperature variance across regions, packing layers is essential so you can adjust your outfit depending on the weather. 

Carry Rainwear:

Rain is common during winters, especially in the coastal areas. Having an umbrella or a raincoat handy can be useful.

Sunscreen is a Must:

Despite it being winter, the sun can still be quite strong, especially in the desert regions. Don't forget your sunscreen.

Stay Hydrated:

Even in cooler weather, keeping hydrated is important, especially if you are engaging in physical activities like hiking or cycling.

Be Aware of Shorter Days

: Daylight hours are fewer in winter, so plan your outdoor activities with this in mind.

Book Accommodations in Advance:

Although winter is off-season, popular places can still get booked up around the holiday season. Make your reservations in advance to ensure you get the accommodations you want.

Stay Open to Indoor Activities:

Given the likelihood of rainy days, have a list of museums, cafes, and other indoor spots you'd like to visit.

Enjoy Local Winter Foods:

Winter is the perfect season to enjoy some of Israel's hearty soups and oven-baked goods, so make sure to indulge.

Follow Local Customs:

If you're visiting during Hanukkah or Christmas, be aware of local customs and public holiday closures.
Conclusion
Winter in Israel is a magical season, providing opportunities to explore the country's diverse scenery and culture in a unique way. The Savoy Hotel is the perfect retreat for winter travelers looking for a comfortable experience. With its prime location close to the city's attractions like the beaches and city's landmarks, it's an excellent starting point for all your winter adventures in Tel Aviv. Whether it's relaxing by the beach or exploring the vibrant city life, The Savoy Hotel has got you covered. Book your stay now, and experience the best of winter in Israel.
Frequently Asked Questions
What are the best winter activities to enjoy in Israel?
The best winter activities in Israel include exploring the historic sites and museums in cities like Jerusalem and Tel Aviv without the summer crowds. Tourists can also enjoy hiking in the Negev Desert, where the cooler temperatures make the experience more comfortable, or take a rejuvenating dip in the Dead Sea. Additionally, visiting the Mount Hermon ski resort in the Golan Heights offers an opportunity for skiing and snowboarding.
Can one find snow in Israel during the winter months?
Yes, snow in Israel during the winter months can typically be found in the Golan Heights and Mount Hermon, the country's highest point, where a ski resort is open when conditions allow. Occasionally, Jerusalem and other high-altitude locations might also receive a light dusting of snow, creating picturesque winter scenes.
More Articles: