If you're planning a trip to Tel Aviv, exploring the city's diverse and vibrant markets is a must. From the flavors of Levinsky Market to the bustling Carmel Market and the gourmet offerings of Sarona Market, there's something for every traveler. In this blog post, we'll take a look at what each market in Tel Aviv has to offer and why staying at The Savoy Hotel is the perfect choice for your market-centered adventure in Tel Aviv.
The Historical Carmel Market (Shuk Ha'Carmel)
Located in the heart of the city, the Carmel Market first opened in 1920, some eleven years after the establishment of the city. This iconic market offers fresh produce, spices, clothing, souvenirs, and more. Stalls selling street food are lined up all around the market, tantalizing visitors with the aroma of exotic spices and delicacies. From fresh juices and falafel to hummus and shawarma, there's an endless selection of delicious street food. Staying at The Savoy Hotel makes exploring the Carmel Market easy with its central location. You can drop off your bags and head straight to the market to start your food adventure.
Levinsky Market: A Feast for the Senses
The market stands out as a culinary treasure in Tel Aviv, offering a delightful selection of dried fruits, nuts, spices, and various global treats. The rich scents of toasted nuts and rare spices create a captivating atmosphere. As you wander through the snug lanes and past the stalls, you're invited to taste delights like baklava, Turkish delight, and freshly made halva. Don't miss the fruit and vegetable stands either; they're a visual feast with their bright colors and stunning displays. Staying at The Savoy Hotel, visitors can easily venture out and discover the culinary richness of Levinsky Market.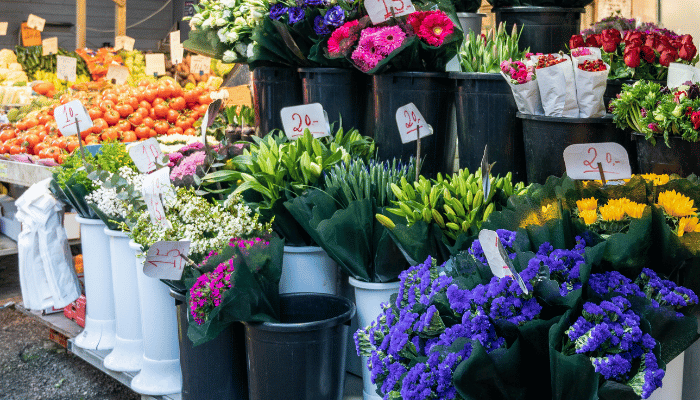 Sarona Market: Modern and Gourmet Options
Sarona Market presents itself as a chic and contemporary destination, boasting an extensive array of gourmet treats, handcrafted goods, and fashionable dining spots. Those who visit can treat themselves to a world of international flavors, select craft beers, and exquisite desserts, all housed within this stylish market setting.
There are over 90 food vendors and stalls in Sarona Market, offering visitors plenty of dining options. From traditional Israeli dishes to Korean BBQ, there's something to please every palate. Staying at The Savoy Hotel puts visitors in the heart of the city and easy access to the modern sophistication of Sarona Market.
Practical Information and Tips for Markets in Tel Aviv
Before embarking on your market adventure in Tel Aviv, it's essential to note some practical information and tips. These will ensure you have a seamless and enjoyable experience as you navigate through the vibrant stalls, savor the delicious foods, and immerse yourself in the richness of the local culture. Here are some suggestions to guide your market visits:
Plan your visit early in the day:

Markets in Tel Aviv generally start early and can get quite crowded. To get the freshest produce and beat the crowds, plan your visit in the morning.

Dress comfortably:

You'll do a lot of walking, so wear comfortable shoes and dress in layers as temperatures can vary.

Stay hydrated:

Tel Aviv can get quite hot, especially during summer. Make sure to drink plenty of water to stay hydrated while exploring the markets.

Try the local food:

Don't hesitate to try local delicacies from the food stalls. Street food is a big part of the market experience.

Keep cash handy:

While most vendors do accept cards, some smaller stalls might only accept cash.

Bargaining is acceptable:

Don't be shy to bargain in these markets, particularly at the Carmel Market. It's part of the buying process, and welcomed by many vendors.

Be aware of your belongings

: Like any crowded place, keep an eye on your belongings to avoid pickpockets.

Consider a guided tour

: If you want to learn more about the history and food of the markets, consider joining a guided tour.

Stay at The Savoy Hotel

: With its central location, The Savoy Hotel makes accessing all these markets a breeze.
Conclusion
Whether you're a foodie or just love the buzz of the markets, markets in Tel Aviv offer something for everyone. The Savoy Hotel is a conveniently located and comfortable base that allows visitors to easily explore the city's lively markets. From the historic charm of the Carmel Market to the modern sophistication of Sarona Market and the flavors of Levinsky Market, Tel Aviv's markets are a destination not to be missed. Book your stay at The Savoy Hotel and start planning to discover the vibrant markets of Tel Aviv today.
More Articles:
Frequently Asked Questions
Do the markets in Tel Aviv operate daily or are there specific market days?
Most markets in Tel Aviv operate daily, offering a consistent destination for both locals and tourists to shop for a variety of goods. However, the hours of operation and the liveliness of the markets can vary, with some markets having specific days where they are especially bustling or feature additional vendors and products.
How do prices at the markets in Tel Aviv compare to regular retail stores?
Prices at markets in Tel Aviv tend to be more competitive and negotiable compared to regular retail stores, providing opportunities for bargaining and finding unique deals. However, it's important for shoppers to be aware of the product quality and to compare prices at different stalls to ensure they are getting good value for their money.