"Boutique" usually means a cozy, chic hotel that offers a more personalized touch compared to the big hotel chains. Take The Savoy Hotel, for instance. Let's explore why The Savoy stands out among the best  boutique hotels in Tel Aviv and could be that cozy city retreat you've had in mind.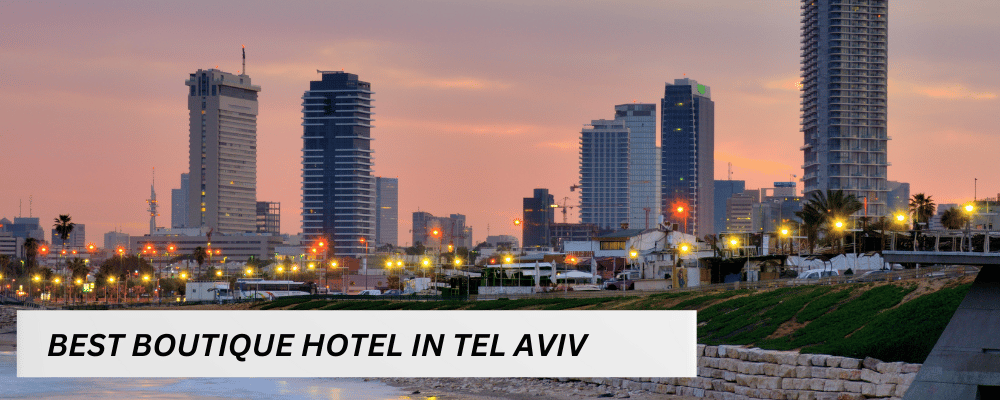 Everyone's buzzing about Tel Aviv these days. Between its stunning beaches, rich cultural vibes, and electric nightlife, it's easy to see why. As part of the city's evolution, boutique hotels in Tel Aviv have started to appear one by one. These hotels are fast gaining popularity for their charm, alluring design, and personalized experiences. 
The Allure of The Best Boutique Hotels In Tel Aviv
Boutique hotels distinguish themselves from larger chain hotels in Tel Aviv by offering personalized services and a unique ambiance characterized by:
Authenticity:

Boutique hotels often reflect the local flavor through their design, food, amenities, and services. 

Size

: These hotels are typically smaller, ranging from 10 to 100 rooms. This smaller size allows for more personalized attention to guests.

Unique Design and Decor:

Each boutique hotel has its unique style. From architecture to interior decor, there's an emphasis on individuality and often a blend of old-world charm and modern elegance.

Personalized Services:

Boutique hotels often offer tailored services to their guests. This could be anything from customized meals to arranging local tours.

High-end Amenities:

Despite their smaller size, boutique hotels do not compromise on comfort. High-quality linens, premium toiletries, gourmet food, and drink options are standard.

Location:

Many boutique hotels are located in desirable neighborhoods or interesting historical buildings, offering guests convenience and uniqueness.
The Importance Of Location 
The location of The Savoy Hotel is one of its major advantages, with just a two-minute stroll to the beach and promenade.  It is the perfect place to unwind with personally served breakfasts, catch up over Happy Hour, and enjoy afternoon coffee while chilling out on the deck. The hotel's location, close to key attractions and entertainment hubs, draws many tourists.. Tel Aviv's vibrant nightlife and entertainment options are within easy reach, along with the city's many unique attractions.
Amenities: The Little Extras That Count
Boutique hotels offer a wide range of specialized amenities tailored to enhance guests' experiences, making each stay unique and memorable:
Spa Services:

Many boutique hotels offer in-house spa facilities, providing a range of treatments from massages to facials, appealing to guests seeking relaxation and wellness.

Customized Dining:

Hotels may offer unique dining experiences such as personalized menus, wine tastings, or cooking classes with renowned chefs.

Cultural Experiences:

Some boutique hotels organize events featuring local artists, musicians, or cultural performances to provide guests with a deeper understanding of the local culture.

Fitness Facilities:

Boutique hotels often offer specialized fitness amenities like yoga classes, personal training sessions, and state-of-the-art fitness equipment.

Unique Room Features:

Each room in a boutique hotel may have its own unique feature, such as a fancy espresso machine, a vinyl record player, or a curated mini-bar with local flavors.

Personal Concierge Services:

These services can arrange a wide range of experiences, from booking local Tel Aviv tours to making restaurant recommendations and reservations.

Eco-Friendly Amenities:

Many boutique hotels are focused on sustainability and offer eco-friendly amenities like organic toiletries, locally sourced food, and energy-efficient utilities.
Boutique hotels are known for their individual approach, and the Savoy Hotel is no different. The rooms and suites at the hotel boast chic and classy furnishings that you won't find just anywhere. And their revamped rooftop? It's a treat. With swing chairs and a bar set-up, guests can kick back, cocktail in hand, and soak up sweeping views of the Mediterranean. Guests can expect personalized services, a wellness center, a beach restaurant, and Concierge Services.
In conclusion ,if a cozy and tailor-made experience in the city's core is what you're after, then The Savoy is the best boutique hotel Tel Aviv has to offer. The allure of boutique hotels lies in their personalized services, design, and intimacy, something that most larger chain hotels cannot offer. The Savoy Hotel caters to travelers desiring both activity and relaxation with its thoughtful amenities.It's built a name for itself as one of Tel Aviv's standout boutique hotels, always getting a thumbs up from its visitors.
Frequently Asked Questions
What defines a "boutique" hotel when considering accommodations in Tel Aviv?
A boutique hotel in Tel Aviv is typically characterized by its unique design, personalized service, and intimate atmosphere. Unlike larger chain hotels, these establishments often have a distinct theme or style and a limited number of rooms, emphasizing a more tailored guest experience.
How do boutique hotels in Tel Aviv differ from chain hotels in terms of guest experience?
Boutique hotels in Tel Aviv offer a more personalized and unique guest experience, emphasizing distinctive design, local culture, and intimate atmospheres. While chain hotels tend to offer uniform amenities and designs to appeal to a wide range of guests, boutique hotels cherish uniqueness and a deeper connection to the local culture.
How do apartment rentals compare to hotels in terms of price and amenities?
In Tel Aviv, apartment rentals often offer more space and a homier feel than standard hotel rooms and can be more cost-effective for longer stays. However, they lack the full range of amenities and services, such as daily cleaning, room service, or onsite facilities, commonly found in hotels. The choice between the two often depends on a traveler's preference for convenience versus a more local living experience.
Are there eco-friendly or sustainable accommodation options in Tel Aviv?
Yes, Tel Aviv offers eco-friendly and sustainable accommodation options. Several hotels and lodgings have implemented green practices, ranging from energy-saving measures to waste reduction initiatives. Travelers can find establishments with eco-certifications or those known for their sustainability efforts.
More Articles: