Israel is home to a flourishing street art scene that has flourished over the years. The country's rich artistic culture finds modern expression on the streets, making it an attractive location for art lovers and enthusiasts. In this article, we will delve into the development of street art in Israel and highlight major cities where art enthusiasts can explore the vibrant landscape of street art. We will also provide practical tips for respecting the art and exploring it to the fullest. Finally, we will recommend The Savoy Hotel as an ideal accommodation option for those who want to make the most of their street art exploration.
How Street Art Has Transformed Over Time in Israel
Israel's street art has seen a major glow-up over the years, hugely influenced by shifts in history, society, and politics. Back in the day, it was all underground – artists risking arrest or being called vandals. Now? Many have won recognition and even get their work requested by cities or businesses. With street art now respected as true artistry, these creators can flex their creative muscles while speaking out on big issues.
Spotlight on Major Cities for Street Art In Israel
Tel Aviv:

Known as the "street art capital" of Israel, Tel Aviv boasts a rich tapestry of street art, with stunning murals and stencils adorning its walls. The city has a reputation for openness to art, and its streets, buildings, and sidewalks are full of artistic murals and graffiti. Florentin, an edgy neighborhood, is the epicenter of Tel Aviv's street art scene, with its narrow streets full of eye-catching artworks, and Neve Tzedek, an area known for its charming houses and galleries, also showcases some unique street art.

Jerusalem: The ancient city of Jerusalem contrasts its historic architecture with modern street art, creating a unique blend of old and new. Be sure to visit the Nachlaot neighborhood and the famous Machane Yehuda Market to see some iconic pieces. While the historic sites remain preserved and untouched, street artists have found a way to incorporate their art into the contemporary parts of the city. The Machne Yehuda market in the city is full of bright colors and whimsical images, while some parts of the city are covered in political murals.
Haifa:

This city is emerging as a new hotspot for street art, with its downtown district offering a plethora of unique art pieces. Look out for the Broken Fingaz Crew, a world-renowned street art collective based in Haifa. Haifa's street art scene has been an integral part of its cultural development. The city is home to several galleries and art spaces, and it's a popular spot for street art festivals and events. The Wadi Nisnas neighborhood is one of the best-known areas for street art, with its colorful murals and unique designs.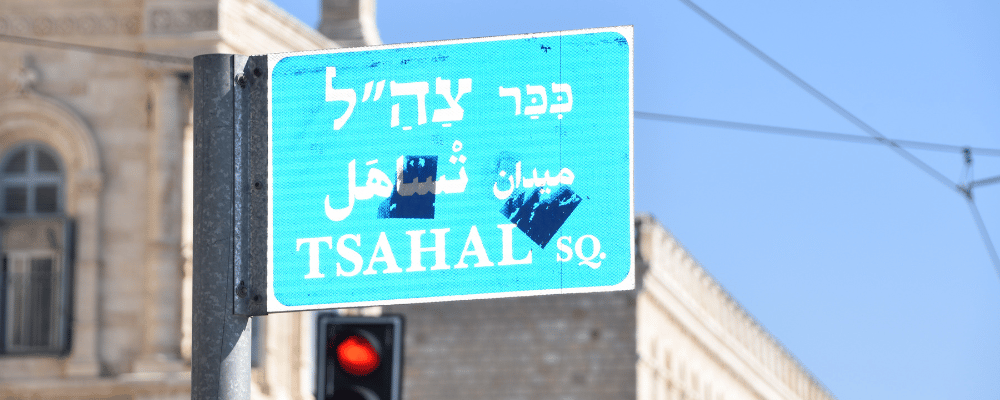 Handy Tips for Those Who Love Street Art
Respect the Art: Always remember that street art is a form of creative expression and should be treated with respect. Refrain from touching, damaging, or altering the art in any way. Remember these artworks are often inspirational or significant for the communities they adorn.

Don't snag a souvenir, no matter how much you want to. Stick with the golden rule: "Snap pics only, leave just footprints". Use your camera to remember your visit and post those photos online. It's a great way to back up and spread love for these artists.

Try a Street Art Tour: To really get the full picture – who made it, why it's there, and what makes it special – think about hopping on a guided tour. These guides? Usually they're local artists or big-time fans themselves. Their inside scoop can give your street art adventure an extra layer of wow-factor.

Walk around or use bikes:: To really dive into street art, try strolling around or hopping on a bike. You'll have the chance to find hidden masterpieces tucked away in backstreets and alleyways while fully soaking up the colorful ambiance of both the artwork and its locale.

Don't forget the Artists: When you stumble upon art that catches your eye, make a point to remember or jot down the artist's name. This small step can open up a world of their other works for you to enjoy and even lets you show them some love directly through their socials or website.
Conclusion
The street art scene in Israel is like a colorful tapestry of culture and history. If you're an art enthusiast, this place is heaven! It's where ancient meets modern in the most artistic way. For your stay? The Savoy Hotel has got you covered when visiting these amazing murals. With the tips we've shared here, go on – immerse yourself fully in Israel's unique street art vibe and get a deeper feel for its dynamic country and artists.
Frequently Asked Questions
Which Israeli cities are renowned for vibrant street art?
Tel Aviv, particularly the Florentin neighborhood, is at the forefront of Israel's street art scene, renowned for its vibrant and diverse murals. Jerusalem and Haifa also host notable street art, with each city offering its unique artistic flavor and commentary.
Who are some notable Israeli street artists?
Notable Israeli street artists include Pilpeled, known for his black and white detailed works, and Dede, famous for his bandaged animal creations. Another prominent artist is Nitzan Mintz, who skillfully integrates her poetry into her street art, creating thought-provoking visual and literary pieces.
Which museums in Israel are essential visits for art enthusiasts?
For art enthusiasts visiting Israel, the Israel Museum in Jerusalem is a must-visit due to its extensive collection of art, archaeology, and Judaica. Additionally, the Tel Aviv Museum of Art is renowned for its modern and contemporary art collections. Both institutions provide a comprehensive overview of the country's artistic heritage and contemporary scene.
Can you recommend any art galleries in Tel Aviv that showcase contemporary Israeli artists?
Certainly! The Gordon Gallery and RawArt Gallery in Tel Aviv are notable venues that showcase contemporary Israeli artists. Both galleries frequently host exhibitions representing a diverse range of current artistic expressions from the Israeli art scene.
More Articles: