Tel Aviv stands out with its vibrant culture, exciting nightlife, and rich history, making it a must-visit destination. But the city's diverse neighborhoods can leave visitors puzzled about where to stay. No worries – this guide's here for you! We'll outline some of the top neighborhoods in Tel Aviv and shed light on their unique features and attractions. Plus, get to know The Savoy Hotel, your ideal base in the city center to elevate your stay.
The Best Neighborhoods in Tel Aviv
Neve Tzedek: Often called 'Tel Aviv's Little Paris', Neve Tzedek is a haven of narrow lanes and historic houses, teeming with arts, culture, and delectable dining spots. Shop at high-end stores, unwind at trendy cafes, and relish the calm amidst city buzz, all while being a short stroll from the beach.
Jaffa: Step back in time in Jaffa, a timeless port city rich in history and old-world allure. Explore winding lanes, stunning stone architecture, and notable spots like the Jaffa Flea Market and Ilana Goor Museum. Enjoy diverse dining, art hubs, and peaceful parks, all with easy beach access and refreshing sea breezes.
Florentin

: If you're after a cool, bohemian vibe, Florentin is the spot. Here, street art, music venues, and nightlife abound, complemented by a diverse food scene, including ample vegan options. The neighborhood's creativity and beach proximity offer the best of urban life and laid-back relaxation.

Rothschild Boulevard:

Stroll along Rothschild Boulevard, a hub of European elegance and a UNESCO World Heritage site. Marvel at preserved Bauhaus-style buildings and iconic landmarks like the Habima Theatre and Helena Rubinstein Pavilion for Contemporary Art. Savor the avenue's cafes, restaurants, and bars, ideal for leisurely brunches, café relaxations, and vibrant nightlife experiences.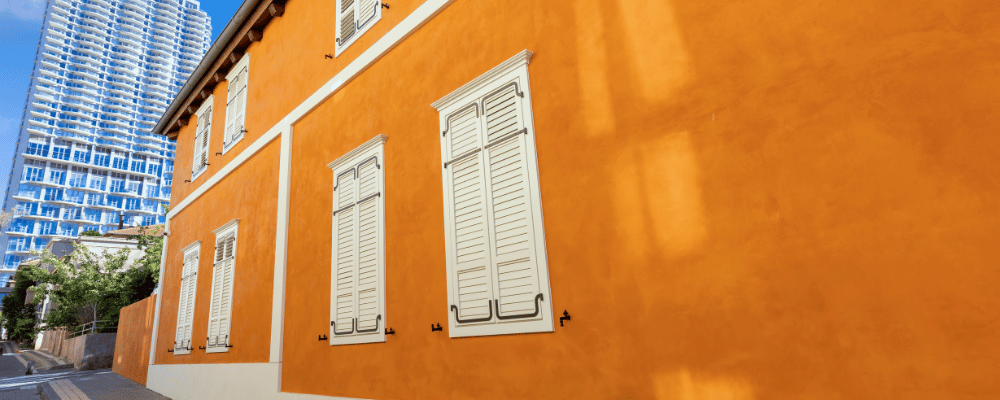 Spotlight: The Savoy Hotel in Geula/Beach Area
Positioned in the Geula/Beach Area, The Savoy Hotel places you in Tel Aviv's heart. Enjoy the beach, explore Jaffa, and roam Rothschild Boulevard, all minutes away from your comfortable stay at The Savoy. Benefit from convenient amenities, like a 24-hour front desk, air conditioning, free Wi-Fi, and a tasty Israeli breakfast buffet.
Tips for First-Time Travelers in Tel Aviv
Research Neighborhoods

: Get to know the neighborhoods to find one that suits your preferences and travel goals.

Learn Basic Hebrew Phrases:

While many people speak English, learning basic Hebrew phrases can enhance your experience.

Currency:

The Israeli New Shekel (ILS) is the local currency. It's advisable to have some local currency for small purchases, even though credit cards are widely accepted.

Public Transportation:

Familiarize yourself with Tel Aviv's public transportation, including buses and  taxis.

Sabbath Observance

: Remember that public transportation and many businesses close from Friday evening to Saturday evening for the Sabbath.

Local SIM Card:

Consider purchasing a local SIM card for easy navigation and communication.

Beach Etiquette

: Be prepared for crowded beaches, and always keep an eye on your belongings.

Stay Hydrated:

The climate can be hot and dry, so carry a reusable water bottle and stay hydrated.

Food

: Enjoy the diverse food scene. Don't miss out on trying local specialties like hummus, falafel, and shawarma.

Historical Sites:

Plan to visit historical sites like Jaffa, the Carmel Market, and Rothschild Boulevard.

Security:

Be aware of security checks in public spaces and cooperate with security personnel.

Budget:

Tel Aviv can be expensive, so budget accordingly and consider alternative accommodations like hostels or vacation rentals.

Tipping

: Tipping is customary in restaurants and cafes, usually around 10-15%.

Day Trips

: Consider day trips to nearby locations like Jerusalem or the Dead Sea.

Travel Insurance

: Ensure you have comprehensive travel insurance for peace of mind during your trip.
Keep these tips in mind to ensure a smooth, enjoyable, and memorable first-time experience in Tel Aviv!
Conclusion
Selecting the best neighborhoods in Tel Aviv for your trip is vital for a memorable Israeli adventure. Each area, from historic Jaffa to lively Florentin, offers unique experiences, ensuring something for every traveler. With The Savoy Hotel's prime location, enjoy easy access to Tel Aviv's finest, ensuring an unforgettable stay in this diverse city. Your ideal Tel Aviv journey starts here, with this guide steering you to the best locales and a delightful stay at The Savoy Hotel.
Frequently Asked Questions
What are the most historic neighborhoods in Tel Aviv?
The most historic neighborhoods in Tel Aviv include Neve Tzedek, the first Jewish neighborhood built outside of Jaffa's walls, known for its beautifully restored Bauhaus architecture and artsy atmosphere. Jaffa, one of the world's oldest ports, is replete with historic sites, ancient architecture, and archaeological wonders, offering a quaint and picturesque exploration of Israel's past.
Are there any Tel Aviv neighborhoods famous for their food and culinary scene?
Yes, Levinsky Market area in Tel Aviv is celebrated for its rich culinary scene, offering a variety of spices, nuts, baked goods, and international cuisine. Additionally, the Carmel Market area is renowned for its fresh produce, street food stalls, and diverse array of restaurants, making it a hub for food enthusiasts.
More Articles: