The finest hotel on the beach, the Savoy encapsulates everything that Tel Aviv is famous for. Just two minutes from the oceanside, the Savoy is Tel Aviv's leading promenade hotel with access to miles of golden sand combined with all the style and luxury of a leading European city resort. Enjoy designer interiors, world-class dining, a relaxing rooftop terrace and elegant bedrooms with stunning views of the Mediterranean. Renowned for its unique blend of style and tranquility, The Savoy is the premier Tel Aviv hotel on the beach with a spectacular location within easy reach of all the sights and attractions of this vibrant and cosmopolitan city.
One of the best things about Tel Aviv is that it combines all the attractions of a beautiful Mediterranean resort with a compact, colorful city – it really is the best of both worlds. Absent the high footfall of other European locations, visitors can experience Tel Aviv's warm charm and choose either the urban chic of this historic and cultural destination or spend time oceanside, with ten miles of stunning coastline.
A Tel Aviv promenade hotel is the perfect location to savor this fabulous seascape plus, it's only a short hop into the city for all of Tel Aviv's main attractions. Luxury amenities make the most of this resort's beautiful location. Enjoy international cuisine, rooftop terraces and pools, plus chic, stylish interiors to complement your visit.
Find out why all the smart people choose a hotel on the beach in Tel Aviv and what's on offer for your Tel Aviv vacation.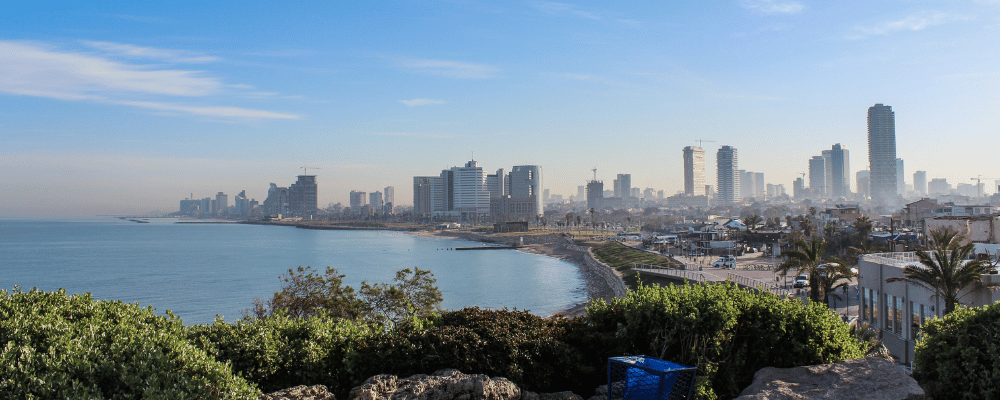 The Advantages of Staying at a Tel Aviv Hotel on the Promenade
It would be hard to visit Tel Aviv without sampling the delights of this fabulous Mediterranean coastline. Ten miles of golden sands lapped by warm, azure waters offer a range of options for beachgoers, from exciting beach sports to luxurious chillout time. However, the best thing about a Tel Aviv hotel on the beach is that you can enjoy all of Tel Aviv's urban culture and attractions without choosing either city or beach holiday – you can have both!
 

Let your eyes feast on the stunning views of this beautiful stretch of Mediterranean coastline. Enjoy five-star accommodation in a luxury Tel Aviv hotel on the promenade

 

Take part in beach activities like matkot or enjoy bathing and surfing in the turquoise blue waters

 

Enjoy the cooling sea breeze as you dine beachside and watch the sunset whilst feasting on delicious dishes from international menus, kosher cuisine and local Israeli food

 

Indulge yourself with luxury treatments and pamper sessions. Many of the Tel Aviv hotels on the promenade have spas

 

A hotel on the promenade in Tel Aviv is just a short walk from all the city's main attractions, including world-class retail ranging from luxury designer outlets to local artisan shops and boutiques

 

Immerse yourself in the culture and history of Israel's second city, with museums and art collections to rival any Western European destination
Things to Do in Tel Aviv
The great joy of a Tel Aviv hotel on the beach is that you don't have to choose between a city break or a beachside holiday – you can combine the two. To help you plan your stay and choose the right hotel, here are some of the main attractions in Israel's second city.
 

If Tel Aviv's glorious beaches are your top priority, you need never be far from the sea with a Tel Aviv hotel on the promenade. Even when you're not on the beach, you can enjoy oceanside dining and fabulous views from your room. Some hotels even offer private beach access

 

Savor a gastronomic experience beyond compare with world-class restaurants, cafes, bars and bistros serving everything from international cuisine to Kosher menus and local Israeli dishes. Eat beachside or dine out in the city

 

For retail therapy par excellence, Tel Aviv has a fabulous offering of luxury designer outlets right through to unique, artisan boutiques and shops

 

All Tel Aviv promenade hotels are within easy reach of Tel Aviv's world-famous night life and party scene. It's not for nothing that Tel Aviv is known as the 'city that never sleeps'

 

Tel Aviv grew up around the ancient city of Jaffa, believed to be the oldest port in the world. Enjoy history and culture with an abundance of ancient architecture, museums, and art galleries
Taking time to think about the specific detail of your holiday will help you find the perfect balance between amenities, price and location, whether you're a party animal determined to enjoy Tel Aviv's famous night life, a culture vulture bent on expanding your mind or a beach babe with no desire to move more than a meter from the oceanside. And the best thing about Tel Aviv? Your vacation can be all these things.
A hotel on the Promenade in Tel Aviv is the best way to savor this beautiful city's delights. If you are looking for the finest accommodation in Tel Aviv, look no further than the most prestigious Tel Aviv hotel on the beach, the Savoy. Call today to make your reservation for a little slice of heaven.
Frequently Asked Questions
What's the best type of holiday to have in Tel Aviv?
Tel Aviv is popular with all types of travelers because it offers something for everyone. Enjoy a beach vacation, a cultural trip, a hefty dose of retail therapy or a great backdrop for your business conference. Whether you are staying for business, leisure, or both, Tel Aviv will surpass all your expectations.
Are the shops shut on the weekend in Tel Aviv?
In Tel Aviv, the Israeli weekend is Friday and Saturday. Saturday or Shabat Day is the Sabbath, so shops, markets and cultural attractions are all closed.
Does public transport run on Shabat Day in Tel Aviv?
There is no public transport on Shabat Day. However, there is a public bike service, and some hotels provide their own bikes for guests to use. You can also still take taxis around the city.
Where are the best bars and clubs in Tel Aviv?
Tel Aviv is famous for its nightlife and after-dark party scene. Focus your attention on the areas of Rothschild and Levontin. The southern end of Rothschild Boulevard is at the heart of Tel Aviv's nightlife.