As a family vacation destination, Israel has a multitude of unique experiences to offer. From learning about history and culture in Jerusalem, to relaxing on the beaches of Caesarea, Israel has everything for everyone.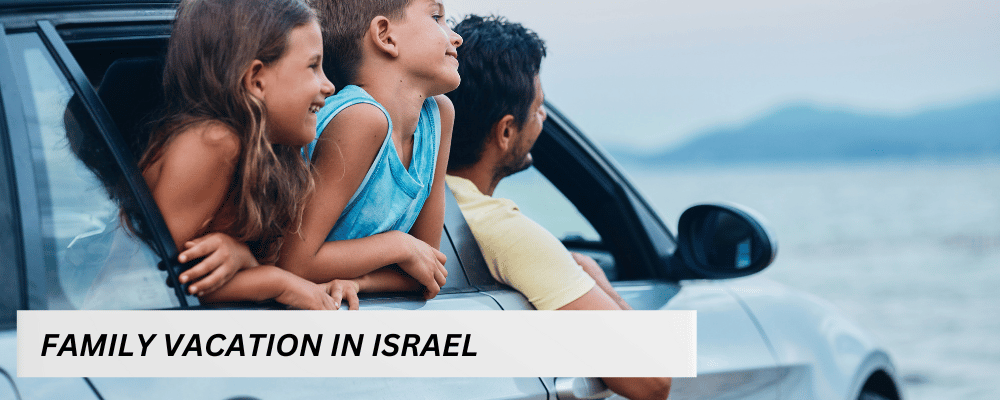 One of the most important decisions you'll make when planning your family vacation in Israel is choosing the right accommodation. Look no further than the Savoy Sea Side Hotel, a family-oriented hotel located in the heart of Tel Aviv. In this article, we'll guide you through planning day trips, travel tips, and introduce you to the Savoy Sea Side Hotel, your base for a seamless and comfortable family vacation in Israel.
Planning Day Trips from Tel Aviv
If you're staying at the Savoy Sea Side Hotel in Tel Aviv, there are several excellent day trips you can take with your family:
Jerusalem Day Trip

: A visit to Jerusalem, a city that radiates spirituality and history, is a must. Visit the Western Wall, walk the Via Dolorosa, and explore the many different quarters of the Old City.

Masada and Dead Sea Tour:

Take a day trip to the Masada fortress, an ancient fortification in the Southern District of Israel, and then rejuvenate with a dip in the Dead Sea, known for its therapeutic mud and salt-rich waters.

Caesarea, Carmel and Zichron Yaakov Visit:

Explore the ancient ruins of Caesarea, wander through the Carmel mountains, and enjoy a wine tasting at one of the boutique wineries in Zichron Yaakov.

Jaffa Port and Markets:

Dive into a day at Jaffa where the past meets the present. Wander around the old Jaffa Port, hunt for treasures at the Jaffa Flea Market, and lose yourself in the local art galleries and studios peppered around the area. It's a blend of history and today's vibe all in one place.
Travel Tips for Family Vacation in Israel
To have the best experience in Israel, consider the following tips:
Safety First:

Israel is generally a safe country for tourists. However, like any travel destination, it's important to stay informed about the current situation, especially if you plan to visit border areas.

Currency: The official currency of Israel is the Israeli New Shekel (ILS). Credit cards are widely accepted, but it's always handy to have some cash for smaller establishments or street vendors.
Weather

: Israel has a Mediterranean climate. Consider this when packing for your trip. Summers can be hot, so bring light clothing, sunscreen, hats, and stay hydrated. Winters are mild but can be rainy, so it's advisable to have waterproof clothing.

Public Transportation

: Israel has an efficient public transportation network, including trains, buses, and taxis. However, renting a car gives you the freedom to explore at your own pace.

Respect Local Customs:

Israel is home to a diverse range of cultures and religions. When visiting religious sites, dress modestly and respect the customs of the site.

Stay Hydrated:

The Israeli climate can be hot, especially in summer. Always carry water with you and ensure you and your family stay hydrated throughout the day.

Try the Local Cuisine:

Israeli cuisine is a delicious blend of Middle Eastern and Mediterranean flavors. Don't miss out on traditional dishes like hummus, falafel, shakshuka, and freshly baked pita bread.

Health Insurance

: Make sure you have adequate travel insurance that covers medical expenses in case of illness or injury.
The Savoy Sea Side Hotel: Your Family-friendly Base in Tel Aviv
If you're considering a family vacation in Tel Aviv, the Savoy Sea Side Hotel is a commendable choice. Its prime location near the Tel Aviv promenade and beaches ensures families have easy access to the Mediterranean's scenic beauty. Additionally, many of Tel Aviv's significant attractions are within a convenient walking or cycling distance from the hotel.
The Savoy Sea Side Hotel prides itself on being family-oriented. The rooms at the hotel are thoughtfully designed, making both couples and families feel right at home. You can't help but notice the European touch in its design, giving your stay that extra dash of class. And you know what's really special? The rooftop. It's a spot where you can kick back, soak in breathtaking views of the city and the sea, and just lose track of time. It's the kind of place where memories are made.
Conclusion
In conclusion, Israel offers a distinctive blend of experiences for families. Between its historical sites, vibrant cities, and natural beauty, there's an adventure waiting around every corner. Proper planning, being aware of cultural norms, and selecting the right accommodations, such as the Savoy Sea Side Hotel, can ensure your trip to Israel is both smooth and memorable. With its strategic location, refined aesthetic, and amenities tailored for families, the Savoy Sea Side Hotel stands out as an exemplary place to stay from which to experience the perfect family vacation in Israel.
Frequently Asked Questions
What's the average daily cost for a vacation in Israel?
The average daily cost for a vacation in Israel can vary based on travel style. Budget travelers can expect to spend less, while luxury travelers will likely spend more. It's always advisable to check recent travel blogs or guides for up-to-date estimates.
Which beachfront places to eat in Tel Aviv offer the best views?
Several beachfront restaurants in Tel Aviv offer stunning sea views, with popular spots including Manta Ray, Gordo and the Savoy hotel restaurant. These places not only provide delicious food but also a panoramic view of the Mediterranean, enhancing the dining experience.
Which fun restaurants in Tel Aviv are popular with locals and tourists alike?
Several fun restaurants in Tel Aviv enjoy popularity among both locals and tourists. You can check The Sarona Market, an upscale indoor market located in Tel Aviv. The market has a food hall with over 90 international vendors selling prepared foods and groceries. It has a playground for children and grass lawns to picnic on.