When visiting a city, the location of your accommodations can make or break your overall experience. In this article, we'll discuss the advantages of selecting a central hotel in Tel Aviv, with a special focus on The Savoy Hotel. Have you considered Tel Aviv for your next destination? Located along Israel's coastline, this city boasts gorgeous beaches, a lively nightlife, and a tapestry of history. In a city that truly never rests, every traveler can find something to cherish, be it basking under the sun, delving into its rich past, or savoring the diverse culinary delights.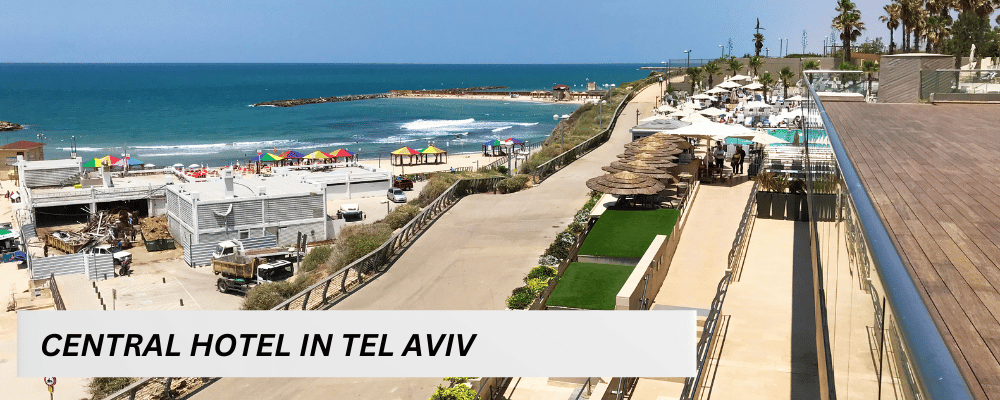 Benefits of a Central Hotel In Tel Aviv
Convenience:

A central hotel places you in the heart of the city, making most of Tel Aviv's top tourist attractions within walking distance. You can easily reach the beach, the Carmel market, or the historic Neve Tzedek neighborhood.

Access to Public Transportation:

Central locations usually have better access to public transportation options. This makes it easy to travel to destinations further away like the ancient city of Jaffa or the Eretz Israel Museum.

Vibrant Tel Aviv Nightlife:

Tel Aviv is famed for its vibrant nightlife and staying centrally means you'll be just steps away from popular bars, clubs, and restaurants.

Diverse Dining Options:

In the heart of the city, you'll find a vast range of dining options. Whether you're craving a tasty falafel or fancying a meal at a fancy restaurant, there's something here for every taste bud.

Cultural Exposure:

Central Tel Aviv is a hub of cultural activities. Art galleries, museums, and music venues are everywhere, providing guests with a taste of Tel Aviv's rich culture.

Shopping:

Staying centrally provides easy access to a plethora of unique shops. You've got everything from quirky vintage shops to cheap fashion outlets just a stone's throw away. 
The best part about staying in the heart of the city? All of Tel Aviv's top spots – be it iconic landmarks, museums, or art galleries – are practically on your doorstep. Staying at a central location like The Savoy Hotel can significantly reduce transportation costs and time lost getting to and from these attractions.
Walking Distance Wonders
One of the prime advantages of staying in a central hotel is the ease of exploring the city on foot. Walking through Tel Aviv allows you to uncover its lesser-known treasures and immerse yourself in its distinctive atmosphere. Walking allows for a slower pace of exploration, providing the chance to truly absorb the city's ambiance, engage with locals, and soak in the architectural beauty that might otherwise be missed when using other modes of transportation. Plus, it champions a greener way of touring, cutting down on those travel-related carbon footprints. And let's not forget, walking is a great way to keep in shape during your holiday! 
To top it all, the mild Mediterranean climate of Tel Aviv makes it an ideal city to explore on foot, almost all year round. While walking or cycling to local attractions and experiences is convenient, travelers may still need to venture further away from the city center. The Savoy Hotel is located on Ge'ula Street, which is a hub for public transportation, connecting travelers to buses, trains, and taxis that can take them to further destinations.
The Savoy Hotel: Tel Aviv's Central Gem
The Savoy Hotel has quite the reputation in Tel Aviv. Styled with a chic European flair, the hotel just radiates elegance from every corner. The hotel is located only a short 2-minute stroll from the beach and promenade, offering stunning views of the Mediterranean Sea and beautiful beaches. The hotel's well-kept wooden deck, overlooking the sea, is a perfect spot to enjoy personally served breakfasts, Happy Hour, and afternoon coffee. 
Being right in the center means you're just a short stroll away from all the city's highlights. It's such an advantage for guests, giving them this unmatched mix of closeness and convenience.
At The Savoy Hotel, guests can expect to enjoy top-notch hospitality and accommodation in a prime Tel Aviv location. Whether you're looking for an active holiday full of cultural exploration or simply want to relax by the beach, The Savoy Hotel offers comfortable accommodations with unbeatable convenience.
Conclusion
In conclusion, picking a central hotel in Tel Aviv is a game-changer. Think about it: major sights are just around the corner, you get to wander around on foot, and it's a breeze to get from one place to another. And if you're looking for a top-notch spot in the heart of the city? The Savoy Hotel is where it's at. With its prime spot and cozy rooms, your stay will be nothing short of unforgettable.
Frequently Asked Questions
What is the best time of year to visit Tel Aviv for travelers?
The best time to visit Tel Aviv for travelers is during the spring (April to June) and fall (September to November) when the weather is mild and pleasant, and the city is less crowded compared to the peak summer months. These periods offer comfortable temperatures for exploring and enjoying the beaches.
How accessible is Tel Aviv for English-speaking travelers?
Tel Aviv is quite accessible for English-speaking travelers. Many locals, especially in the service industry, speak English fluently. Additionally, English signs and information are prevalent in tourist areas, making it relatively easy for travelers to navigate the city and communicate effectively.
Are there any travel safety tips specific to Israel?
Yes, when traveling in Israel, it's advisable to stay informed about the current political situation, especially near the borders. It's also recommended to respect religious customs and dress modestly when visiting holy sites. As with any destination, travelers should be wary of personal belongings and practice general safety precautions.
Which historical sites are a must-visit in Israel?
In Israel, the Western Wall, Church of the Holy Sepulchre, and the Dome of the Rock in Jerusalem are essential historical sites. Additionally, Masada, an ancient fortress located near the Dead Sea, and the Baha'i Gardens in Haifa are also must-visit landmarks with deep historical significance.