In this blog post, we will explore the delightful array of culinary experiences that are conveniently accessible from The Savoy Hotel. We'll cover a variety of dining options, from the local street food delights and vegetarian-friendly eateries to some of the highly praised restaurants in Tel Aviv.
Tel Aviv boasts a culinary scene that is as rich and varied as the city itself, drawing food lovers from every corner of the globe. The city offers a wide range of dining experiences, from laid-back street food to luxurious Michelin-starred restaurants.
Nestled within this vibrant food haven is The Savoy Hotel, perfectly situated a stone's throw away from the beautiful beaches and lively promenade of Tel Aviv. 
The Savoy Hotel as a Prime Location
The Savoy Hotel's location is ideal for any food lover visiting Tel Aviv. Just a leisurely walk away from the beach and promenade, the hotel boasts incredible views of the sparkling Mediterranean Sea and picturesque beaches. Thanks to its central location, guests have the convenience of exploring the city's premier dining destinations, indulging in an extensive variety of flavors and culinary styles. 
Offering the ideal combination of European chic and Tel Aviv vibe, the Savoy Hotel truly stands out. The wooden deck near the lobby, kept in prime condition, opens up to a stunning terrace that offers mesmerizing views of the boardwalk and ocean. It's open all day, making it a perfect place to enjoy a breakfast brought right to your table, treat yourself to a Happy Hour beverage, or sit back with a comforting cup of afternoon coffee.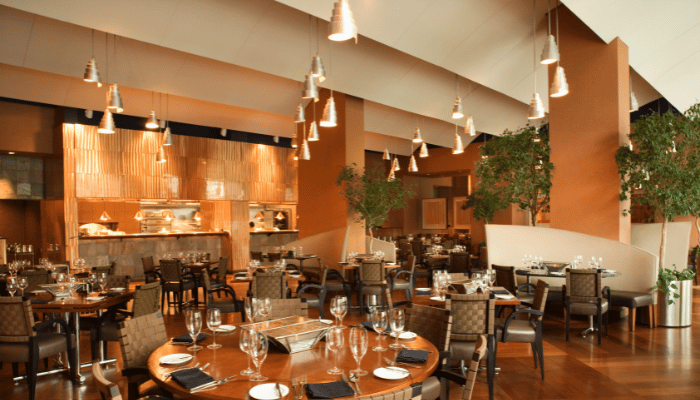 The Savoy Hotel's terrace truly captures the heart of Tel Aviv living – laid-back, full of life, and always basking in sunshine. Given this inviting atmosphere and the hotel's closeness to some of the city's best eateries, it's clear that the Savoy Hotel is an essential stop for food enthusiasts touring Tel Aviv.
Exploring Local Flavors: Restaurants In Tel Aviv Near The Savoy
Tel Aviv is a melting pot of cultures, and this is reflected in its culinary scene. Just a short walk from the hotel, you'll find some of the best restaurants in the city:
M25: Just a short walk from the Savoy, M25 offers a unique and vibrant steakhouse experience, nestled within the bustling Carmel Market. The restaurant serves up a variety of meat-centric dishes that are sure to impress.
Shila – Sharon Cohen's Kitchen & Bar:

Famous for its energetic ambiance and delicious food, this popular spot offers a range of dishes from succulent burgers to fresh seafood, all prepared with a unique twist.

Port Said:

Offering a perfect blend of food and music, this eatery run by famous Israeli chef Eyal Shani serves Middle Eastern cuisine with a modern twist. Its unique atmosphere makes it a must-visit destination.

Ouzeria:

Just a few meters from the Savoy, the Ouzeria restaurant is known for its Mediterranean-style dishes. The menu changes daily, reflecting the freshest ingredients available in the local market.

Café Popular:

This French-Mediterranean fusion restaurant located in the heart of Tel Aviv offers an array of dishes that cater to both vegetarian and non-vegetarian food lovers.
Local Street Food Delights
Tel Aviv is renowned for its local street food scene, and The Savoy Hotel's location provides easy access to some of the city's iconic street food options. One of the most popular street foods is the Sabich, it's a pita stuffed with fried eggplant, hard-boiled egg, hummus, and salad. You can find the best Sabich at Oved's Sabich in nearby Shlomo Hamelech Street. The best Falafel is said to be found at Falafel Gabay in nearby Ibn Gabirol Street. Don't forget to try the Shakshuka, a dish of poached eggs in a spicy tomato sauce, available at many breakfast spots around the city.
Vegan and Vegetarian Restaurants in Tel Aviv
Tel Aviv is considered one of the most vegan-friendly cities in the world, boasting a wide selection of vegan and vegetarian eateries. Here are a few must-visit locations:
Anastasia

: This vegan café is located on Frishman Street, a short distance from the Savoy Hotel. Known for their vegan cheese platter and creamy shakes, Anastasia is a hotspot for health-conscious eaters.

416

: This vegan gastronomy restaurant brings a whole new level to plant-based eating. Located on HaArba'a street, 416 offers creative and decadent dishes such as vegan "foie gras" and chocolate soufflé.

Goodness:

This is a great spot for vegan street food. Located in the Carmel Market, they serve delicious vegan Shawarma and other tasty treats.

Meshek Barzilay

: An organic, vegetarian restaurant with a wide range of vegan options
Conclusion
The gastronomic landscape of Tel Aviv is a dream come true for food enthusiasts, and staying at The Savoy Hotel places you right at its heart. Whether your palate craves exquisite fine dining or the authentic flavors of street food, the city has an abundance of options to offer. Dishes ranging from Sabich to Shakshuka showcase the culinary diversity that Tel Aviv is known for. 
We trust that this guide has sparked your curiosity and encouraged you to dive into the rich tapestry of tastes that define this extraordinary city. So why not book your stay at The Savoy Hotel and start planning your gastronomical adventure today?
More Articles:
Frequently Asked Questions
How do restaurants in Tel Aviv cater to international cuisines?
In Tel Aviv, the restaurant scene is as varied and international as the city itself, showcasing the eclectic mix of cultures that make up its population. Whether you're in the mood for the bold flavors of Asian fusion, the comforting tastes of Italian staples, the familiar fare of North American cuisine, or the rich and aromatic dishes of the Middle East, there's a wealth of authentic and top-notch choices available to satisfy any culinary craving.
What is the average price range for a meal at a mid-range restaurant in Tel Aviv?
The average price for a meal at a mid-range restaurant in Tel Aviv typically ranges from 80 to 150 Israeli New Shekels (ILS) per person. This price can vary based on the type of cuisine, the location of the restaurant, and the specific dishes ordered.
What are some must-try traditional dishes at restaurants in Tel Aviv?
When dining in Tel Aviv, some must-try traditional dishes include Shakshuka, a savory dish of poached eggs in a spiced tomato and pepper sauce; Hummus, a creamy blend of chickpeas, tahini, lemon, and garlic, often served with pita bread; and Sabich, a pita sandwich filled with fried eggplant, hard-boiled eggs, and salad. Another popular option is Falafel, deep-fried chickpea balls served in a pita with salad and tahini.