Looking for Hotel Booking in Tel Aviv? Tel Aviv is a bustling city with a fascinating history, beautiful beaches and a lively nightlife. It is no wonder that leisure and business travelers from all over the globe favor it as a tourist destination. Your choice of a hotel is crucial to enjoying your stay here. When booking a hotel in Tel Aviv, it's important to know what to look for in order to make your decision easier. 
Consider your hotel surroundings, facilities and budget into account. In order to make sure you have a pleasurable and stress-free stay, we will discuss some of the factors you should take into account while making a hotel reservation in Tel Aviv. This guide will assist you in making the best choice for your Tel Aviv Vacation, from understanding the many neighborhoods in the city, to selecting the appropriate hotel amenities.
Booking a hotel in Tel Aviv depends heavily on location. Make sure you're close to the sights, sounds, and activities you're interested in and that you're in a convenient and accessible location. A couple of favorite spots for tourists are the stylish Rothschild Boulevard, which has a wide selection of cafes, restaurants, and boutiques, and the Carmel Market neighborhood, which is well-known for its dynamic street life and bustling outdoor market.
If you enjoy the beach, think about booking a hotel near the beach or in the Tel Aviv Port neighborhood. Additionally, if you're in town on business, think about lodging close to the central railway station or in the business center, which provides quick access to various areas of the city and beyond.
Although there are photographs and descriptions of hotels online, you can never really know what to expect until you visit them. You may learn more about hotel services from customer reviews. You should search for hotels with excellent reviews and ratings from previous guests.
It's crucial to take your priorities into account while booking a hotel in Tel Aviv. Consider a hotel with a spa, gym, or pool, for instance, if you want a spa experience. Look for hotels that include family-friendly services like a kids' club, a kids' pool, or cribs in the rooms if you're traveling with kids.
Today's travelers often give technology a lot of thought, and Tel Aviv is renowned for being technologically advanced. Think about whether you require high-speed Wi-Fi, a TV with international channels, or other technological conveniences when reserving your hotel.
Since there are many hotels, it's crucial to decide on your budget before booking a hotel in Tel Aviv. The city offers lodging options for every budget, from luxurious five-star hotels to convenient hostels. It's a good idea to make reservations in advance because pricing can change depending on the time of year and availability.
When booking a hotel in Tel Aviv, it's crucial to keep the ambiance you're searching for in mind. For example, some hotels have a more casual atmosphere, while others are more formal and professional. Think about the ambiance you prefer, and pick a hotel that suits your tastes and personality.
Think about the amenities you value before booking a hotel in Tel Aviv. For instance, if you're traveling in a group, think about booking a hotel with conference facilities or meeting rooms. Find a hotel with a restaurant or room service if you're a food aficionado.
Design of hotels and rooms
The hotel's design can reveal a lot about the kind of experience it provides. Despite the fact that it will depend on your personal taste, there are some characteristics that can indicate a high-quality space. Decorated rooms suggest that the hotel is of excellent quality and that each room and the demands of the guests are taken into account.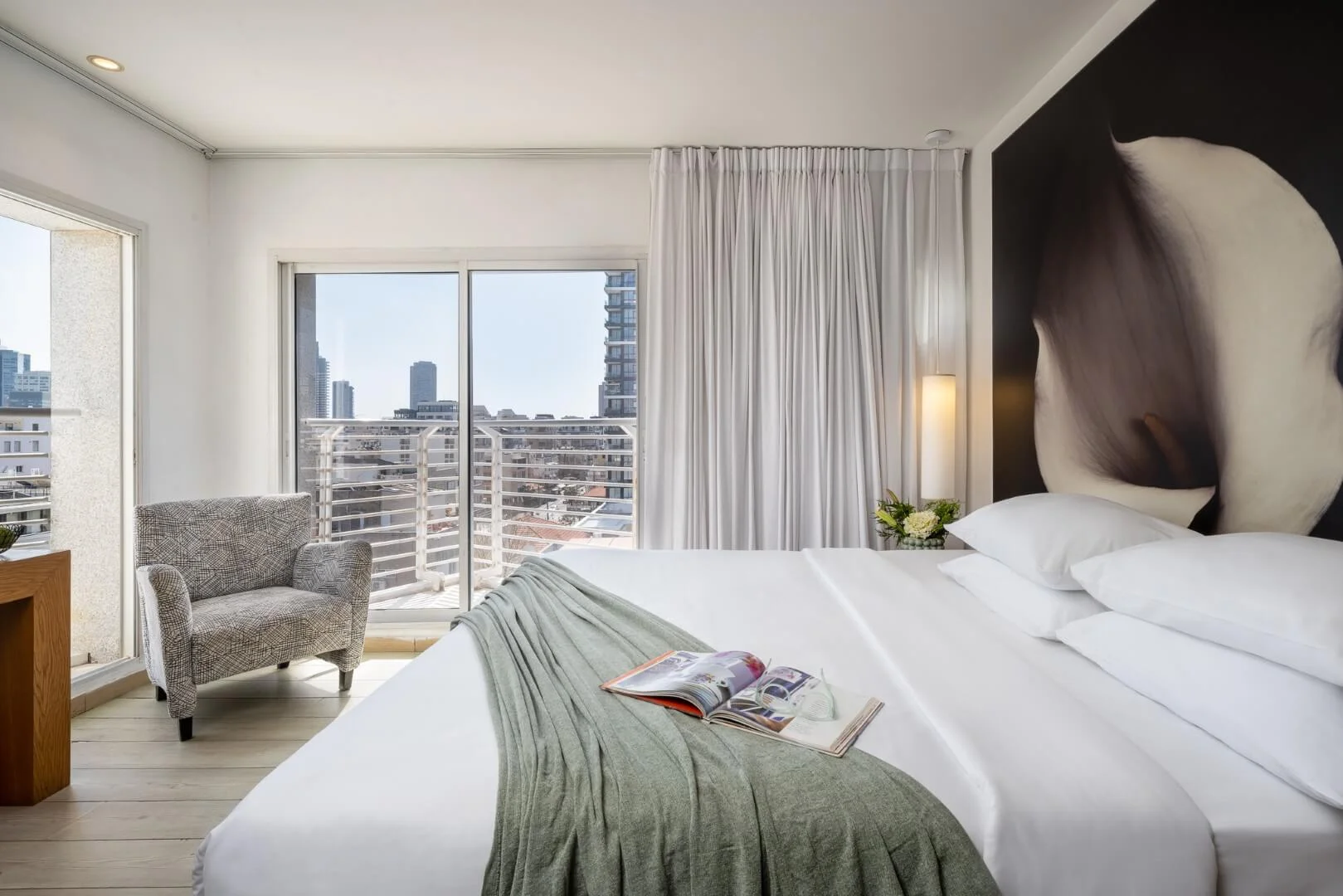 Booking a hotel in Tel Aviv might be challenging given the abundance of options. Find a hotel that makes it simple for you to make direct contact with the staff. A well-established and effectively managed hotel that offers courteous service will have an easy-to-use booking service that allows for the selection of dates and rooms, while providing availability details. 
For the majority of people, the hotel's pricing is the most crucial consideration. When looking for lodging, it's important to get value for money. Even while hotels in Tel Aviv are not inexpensive, it is still possible to live luxuriously without breaking the bank. To save money without sacrificing quality, look for hotels that provide special deals and discounts.
Book your hotel in Tel Aviv in advance
Last but not least, planning ahead is a good idea, especially during the busiest travel times. This will guarantee that you receive the greatest prices and give you more time to look into and compare hotels before choosing the one that's perfect for you.
Booking a hotel in Tel Aviv might take time, but with appropriate knowledge and research, it can be a simple and fun process. You can choose the ideal hotel for your trip by taking your budget, location, and desired amenities into account. Don't forget to familiarize yourself with the hotel rules and guidelines, including any potential extra charges and check-in and check-out times. Above all, remember to enjoy yourself and take advantage of everything Tel Aviv has to offer. Tel Aviv is a city that guarantees to create a lasting impression on its visitors, because of its fascinating history, gorgeous beaches, and exciting nightlife. So be sure to book your hotel, pack your bags, and get set for an amazing trip to Tel Aviv!
You are more than welcome to book your place to stay in Tel Aviv with us at The Savoy Hotel.
FAQs
After I've booked a reservation, can I amend or cancel it?
Yes. In accordance with the Savoy Hotel's cancellation policy, which is specified during the reservation process, you may cancel or modify your reservation if your travel plans change.
How many rooms are in the hotel?
There are 55 rooms available and our hotel is classed as a boutique hotel.
Are there set hours for the rooftop?
No. The rooftop is open 24/7.