Tips for choosing the perfect Tel Aviv Vacation!
Travelers can enjoy a wide variety of activities in Tel Aviv. Tel Aviv offers sandy beaches and a rich cultural legacy, a diverse food scene and a vibrant nightlife. When planning a vacation in Tel Aviv, it can be difficult to know where to begin because there are so many alternatives available. To assist you in picking the ideal Tel Aviv holiday, we've written this article which is packed with suggestions and recommendations. These pointers can assist when planning your trip to Tel Aviv. Whether you're searching for a single adventure, a family holiday or a romantic getaway, read on to find out everything you need to know for a successful trip to the "city that never sleeps". Get ready to travel to one of the world's most colorful and dynamic cities for an incredible and unforgettable experience.
Here are some suggestions to assist you in picking the ideal Vacation in Tel Aviv
If this is your first time in Tel Aviv, you'll want to know the basics. The easiest way to reach Tel Aviv is by plane. As your plane begins to land, make sure you take a look out of the plane window. At night, you'll see a dazzling array of lights, and in the day, try to spot the tel aviv sea-shore, Jaffa and the famous Jerusalem dome. The nearest airport to Tel Aviv is Ben Gurion International airport. It is constantly expanding and undergoing renovations, and the airport complex is completely modern and up to international standards. Be prepared for tight security at the airport. Remember to check your passport in advance, it should be valid for 6 months from your date of departure to Israel.
Organize your ride from the airport – We recommend booking a shuttle or taking the train from the airport to Tel Aviv University train station. From there, you can catch bus number 13 towards the beach. Otherwise, you can use the Get Taxi app to order a taxi or simply wait in line for a cab at the airport. You can also pre-book a private taxi service. 
Pick the Right Season of the Year – Tel Aviv experiences hot, dry summers and warm, rainy winters due to its Mediterranean climate. Depending on your interests and what you're looking for, you can use this information to decide on the timing of your vacation. Visit in the summer if you like hot weather and outdoor activities. Consider going in the winter if you like colder weather and fewer visitors. The best time to visit Tel Aviv is however in Spring and Autumn.
Select the Proper Accommodation – Consider booking a hotel in Tel Aviv with a rooftop terrace or a spa if you're searching for a romantic trip. If you're traveling with children, think about staying at a hotel with child-friendly facilities. 
Think about the neighborhood – Each area in Tel Aviv has its own distinct personality and allure. Consider the area in which you wish to stay while selecting your lodge. For instance, if you're planning a romantic holiday, think about staying in the lovely Neve Tzedek area. Consider lodging in the busy Carmel Market neighborhood if you want a lively atmosphere. If you're looking for time on the beach, then we recommend booking a hotel on the beach in Tel Aviv such as Hotel Savoy.
Schedule Your Activities – You can engage in a variety of activities in Tel Aviv, from touring the city's museums and cultural landmarks to unwinding on its beaches and experiencing its exciting nightlife. Think about your interests and the things you wish to do on your vacation in  Tel Aviv while making travel arrangements. Consider going to the Jaffa Museum or the Tel Aviv Museum of Art if you're interested in history and culture. Visit Yarkon Park or the Tel Aviv Port if you're looking for outdoor activities.
Explore the local culinary scene – Fresh fish, hummus, and falafel are just a few of the delicacies to enjoy at Tel Aviv's famed Mediterranean markets. Consider the city's culinary scene and the kind of eating experience you're seeking. For instance, if you're looking for a restaurant for a romantic supper, think of one with a rooftop patio or a view of the Mediterranean. Consider checking out the city's street food culture or visiting one of its numerous international restaurants if you're searching for something special and different.
Spend some time unwinding – Even though Tel Aviv is a busy city with a lively environment, it's crucial to schedule time for rest and self-care while you're there. Whether you're searching for a serene beach to unwind on, a spa to unwind in or a park to wander through.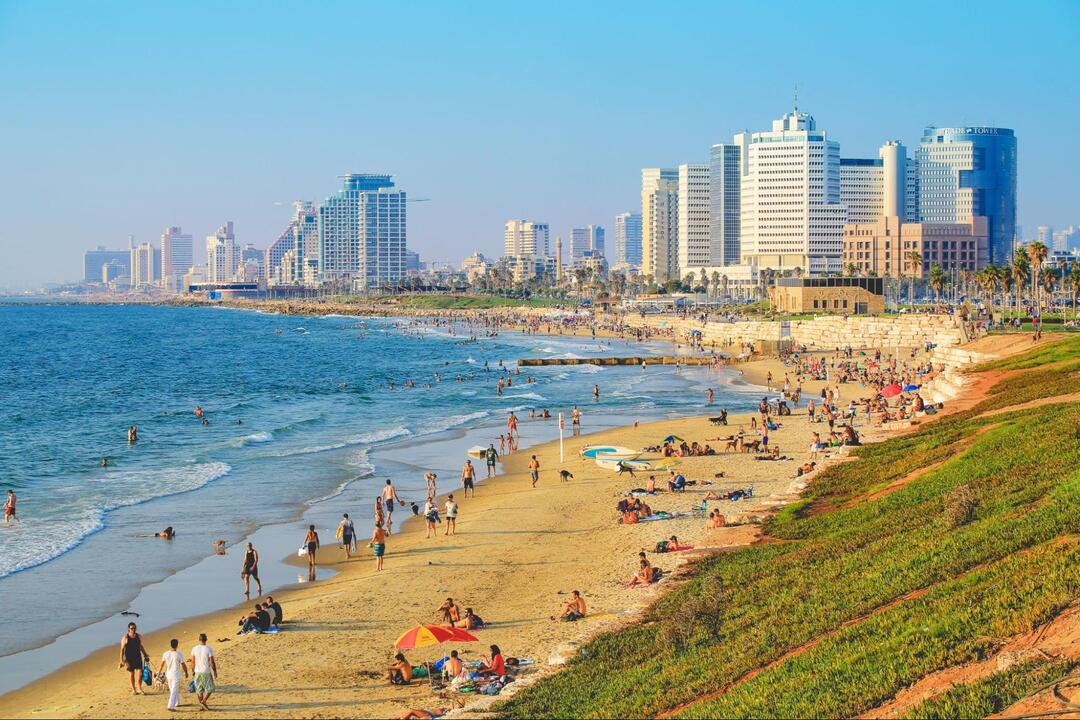 The Savoy Hotel, the nicest hotel to stay at in Tel Aviv
A beautiful and stylish hotel that provides visitors with an absolutely unforgettable experience is the Savoy Hotel in Tel Aviv. The hotel's central location makes it the ideal starting point for experiencing all that Tel Aviv has to offer. It is close to the renowned Carmel Market and the hip, bauhaus-inspired Neve Tzedek district.
The Savoy Hotel offers big, elegant rooms and suites with high-speed internet, cozy beds and flat-screen TVs. After a long day of exploration, you can unwind in one of the apartments' breathtaking views of the city or the Mediterranean Sea.
The Savoy Hotel provides guests with a variety of activities in addition to its opulent facilities and services, including guided city tours, cooking workshops and wine tastings. Your stay includes activities for anyone, whether you want to learn more about the local culture and history or just unwind and indulge in some pampering.
Ideal Beach Setting

You'll be relieved to know that at The Savoy Hotel, you can enjoy the sea to your heart's content by just crossing the street. The Savoy cordially encourages its guests to open the windows in your room or suite, step outside onto the balcony, and take in the cooling sea breeze, revitalizing views of the Mediterranean Sea and stunning views of Tel Aviv beach.
FAQs
What is the best amount of time to spend in Tel Aviv?
The length of time you'll want to stay in Tel Aviv depends on your intentions. For a family holiday, we recommend around 3 weeks. This will give you enough time to explore different parts of Israel, like the dead sea and Jerusalem. If you have relatives in Israel, you might also want to spend days visiting them. Otherwise, you can enjoy spending time on the beach, at your hotel, reading a book on the shore, partying in local nightclubs or networking with colleagues.
If you're short on time, 5 days in Tel Aviv can also be ideal. How you'll want to spend your time depends entirely on your preferences.
Some common sightseeing destinations include:
The Tel Aviv Museum of Art
The Old City of Jaffa
Ein Gedi, Masada and the Dead Sea
A Tour in the old city of Jerusalem including Betlehem
Caesarea national park and ancient remains by the beach
The flea market and Carmel market in Tel Aviv
Sheinkin Street
Ramat Aviv Mall
Playing beach volleyball on the Tel Aviv seashore
Partying at Tel Aviv nightclubs
Drinking beer at local bars and pubs (There are many).
Some exciting family activities to do in the Tel Aviv area include:
Going for a hot air balloon ride in Yarkon Park
Going for a cruise off the shore of Herzliya Port
Visiting the Ramat Gan Safari Zoo
Visiting the arts and crafts market in Nahlat Binyamin
Tasting some local falafel and shawarma
What are some surprising facts about Tel Aviv?
-Tel Aviv is one of the most expensive cities in the world
-Although the local language is Hebrew, almost everyone speaks English
-Tel Aviv has the highest ratio of Sushi restaurants per resident in the world
-The local council is actively pursuing the title of "A global city" for Tel Aviv, and tourism culture is encouraged here.
Why do people love to visit Tel Aviv?
Tourists love the welcoming nature of Israelis, the fun and young vibes, the sunny weather almost all year round, the excitement offered by Tel Aviv's nightlife and the many good looking residents. In addition, the country's rich history and culture is enticing to many tourists who are interested in Middle Eastern history.
What does the name "Tel Aviv" mean in Hebrew? Where does the name come from?
The name Tel Aviv in Hebrew literally means "Hill of Spring". This is the title given by Nahum Sokolow, a famous pioneer of Hebrew journalism.
What do I need to know before traveling to Tel Aviv?
-Always take electrical adapters with you. In Israel the power plug sockets are of type C and H.
-Most restaurants offer Kosher food but many restaurants in Tel Aviv also offer non-kosher food. Make sure to check this fact in advance if it is important to you.
-If you're planning a trip to the old city in Jaffa or Jerusalem, make sure to bring modest clothes to respect the local residents.
-Keep your passport and visa accessible in case you'll be questioned. This is usually just a sign of the increased security requirements and not anything personal.
Book your vacation in Tel Aviv with the Savoy Sea Side Hotel! We hope to see you soon.